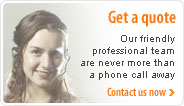 Courier service can be tracked online
Jersey Evening Post - 13/04/06
By Neil Bradbury (bradbury@jerseyeveningpost.com)
WORLDWIDE courier and freight handling company Transfer2000 Ltd has set up in Jersey.
Transfer2000 (Jersey) Ltd has been franchised to spearhead the Channel Islands network using the company's online booking and tracking service, t2net.
The Island company has been launched by Justin Crow, who has worked in the courier and freight business for the past five years. And he says that the Jersey operation, which he set up in February; is going 'very well'.
'We offer delivery times that can't be matched in the Island,' he said. 'Because we're independent we can pick and choose the quickest routes to and from anywhere in the world and our competitors can't touch us on delivery times.
Personal touch
'The customers in the Channel Islands now have a choice - so far the courier and freight business has been dominated by DHL. I've worked hard to tailor my business to the needs of Jersey and my aim is to put the personal touch and customer service back into the courier business.
'But you don't have to be a business to use us - and we'll handle anything that needs to be sent from pallets to books to car parts to a single document.'
Transfer2000 promises to have goods and mail in America by 10.30 am the following day and the British Virgin Isles, Cayman Islands, UK and all major European cities the next working day. It also operates a same-day service to Guernsey and London.
And customers and the consignee can get updates on the whereabouts of their goods from Jersey each step of the way to their final destination through the t2net link.
Mr Crow (32), who is married with two children, came to the Island from Solihull in 1994 to work in the hospitality business as a chef at several Island restaurants and then running the restaurant at Jersey Museum.
He then went into his current trade, administering a team of couriers before striking out on his own as an independent arm of Transfer2000, which is based in Tonbridge, Kent and has been operating in the UK for 12 years.
Now, he has offices on the Inner Road at First Tower and a staff of two. Soon he hopes to establish offices in Guernsey.
Europe
Same day, 8am, 9am, 10am, 12 noon and weekends.
USA, South America and Canada
Same day, 8am, 9am, 10am, 12 noon and weekends.
Middle East
Same day, 8am, 9am, 10am, 12 noon and weekends.
Africa
Same day, 8am, 9am, 10am, 12 noon and weekends.
Asia
Next day, 2nd day 9am, 10am, 12 noon and weekends.
Australasia
Second day 9am, 10am, 12 noon and weekends.